Parrot Bar in Bangla Road Patong Phuket
by Rod Walker
(Newcastle Australia)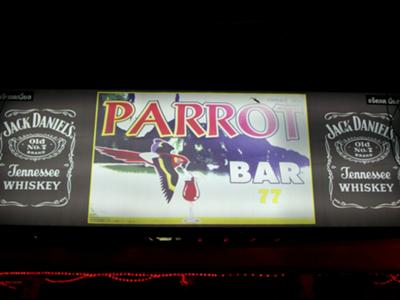 The Parrot Bar, Bangla Road Phuket
This is just one of the many Bars along Bangla Road.
We found the Parrot Bar through friends we met at our Resort when we stayed in Phuket February 2010.
The first time we visited the Parrot Bar we were welcomed very warmly by one of the hostesses and ushered to a table, given a drink list and a nice cold refresher towel. We were told to ask for Luna by our friends, so we did. Luna is one of hostesses at the Parrot Bar. She came over to talk to us and from then on has become one of our good friends in Phuket, along with some of the other girls who work at the bar, Nang, Som, Noi and the owner Ying.
The Parrot Bar is located on a corner in Bangla Road and the tables are mostly on the side street, this gives it a perfect location to just sit and watch the never ending parade of people and characters on Bangla Road.
We visited other bars along this famous strip, but found ourselves gravitating back to the Parrot Bar for the friendly personal service.
We were fortunate enough to return to Phuket again in July 2010, This time catching up with Paula & Jeff the creators of this fantastic website. Paula and I went to school together and hadn't seen each other for around 15 years, so we organised to meet up at the Parrot Bar.
We actually met up in the foyer of our resort, The Patong Bay Garden Resort that is located right on Patong Beach and a short walk to Bangla Road, which was great. We headed out and made a B line to the Parrot Bar, and were all welcomed with open arms. It was great to be remembered by all of the girls at the bar, we were given the royal treatment, and had a fantastic evening catching up, chatting, drinking and lots of laughs.
I would highly recommend a night out at the Parrot Bar, Bangla Road, Patong.
Tell Luna, Rod & Ed sent you......