Our Amazing Thailand Journey
Our Amazing Thailand Journey
by Tony
(Korat, Thailand)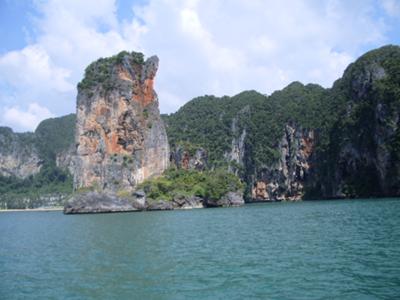 Stunning Krabi Scenery
When you travel to Thailand you know that you will be going on a great holiday.

We have been on so many Thailand Holidays that we have simply lost count.

Our favorite destinations are Phuket, Krabi and the coastline near Rayong (particularly Rim Pae) where we recently stayed and saw a showstopper of a sunset.

Our Journey

Over the years we ventured out to the North and have visited all parts of the country from the extreme north to the deep south....

And guess what!

We ended up in the middle; buying a property in Korat where we now have many good friends.

We have learn t so much about Thailand along the way and don't mind sharing our experiences with anyone who would like to read them.

Bangkok

We have never stayed in Bangkok for more than a week at a time but something keeps drawing us back in.

Maybe it's my wife and daughter insisting on the 'shopping' trips.

The shopping centres are huge and I don't mind tagging along with the ladies of the family; mainly because there are bargains everywhere and my wallet stays reasonably unscathed - unlike some of the brutal shopping outings endured in the UK.

Holidays

Yes, we still go on Thailand Holidays but we don't have to endure the 12 hour flight from the UK any more.

Hooray!!!

Having a base in Korat has given us the ideal platform to explore the country in depth but we still end up going back to some of the old favourites.

We especially like to holiday in Krabi and never tire of the stunning scenery

Travel Tips

There are lots of information and tips that we would also like to share so you can avoid some of the 'gotchas' that people so often fall for.

Join in and write your own page! It's easy to do. How? Simply click here to return to Your Travel Stories.
If you enjoyed this article and found it helpful for your travels in Phuket, let us know by following us on Facebook. 

Save Time: Search Phuket Travel Secrets