Naka Islands

Naka Yai and Naka Noi Island Day Trips
The Naka Islands are two picturesque islands located less then 20 minutes off the northeast coast of Phuket.
These Islands are also known as Koh Naka, Nakha or Naga Islands.

Koh Naka Yai
Naka Yai is the larger of these two islands with picturesque views across Phang Nga Bay.
This beautiful island is rapidly changing from a quaint little fishing village into an eco-friendly tourist destination.
On the western side of the island is a small fishing village, there is no electricity on the island, however if you choose to stay overnight at one of the resorts they have generators to supply power.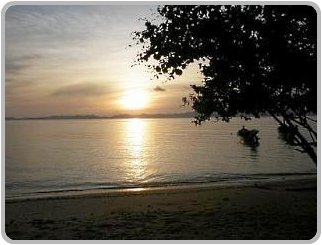 Most of Naka Yai's beaches are wide and sandy, shaded by tall coconut trees.
Along the eastern shore the views out across Phang Nga Bay are simply breathtaking.
The longest beach is on the eastern side, which has chairs and umbrellas for rent.
Naka Yai is included in many day trip tours, with boat loads of visitors stopping off along the eastern beach for a few hours to enjoy snorkeling and swimming in the clear waters.

Activities at Koh Naka Yai
Activities include relaxing on the beach, beach walks, fishing, kayaking, hiking, swimming and snorkelling.
Naka Yai is a wonderful island to visit if you are looking for peace and quite in beautiful tranquil surroundings away from the hustle and bustle of city life.
Accommodation at Koh Naka Yai
If you are planning to stay a few nights on the tranquil Naka Yai Island, there are two totally different types of accommodation available for you to choose from.
The Naka Island Luxury Collection Resort
The 5 Star Naka Island Resort  boasts divine luxury.
Each villa has private steam showers and an open-air and outdoor bathroom area. Activities offered include sailing, bike tours, kayaking and sight seeing to name a few.
The resort is an ideal destination for visitors who just want to switch off, relax and enjoy the beautiful surroundings of Naka Yai island.
See reviews from other visitors who have stayed at the Naka Island Resort on TripAdvisor.
---

Tenta Nakara Resort & Restaurant is a totally unique holiday experience, with accommodation in luxury tents with lighting via lanterns.
These tents are not your average camping tents, they are fitted out with private bathrooms, wooden floors and thatched roofs.
You will never feel as though you are staying in a tent.
For a jungle beach experience, in luxury, this hotel is definitely a great place to stay.
Activities at the Tenta Nakara Resort & Restaurant include fishing, canoeing, diving, snorkeling, island hopping and beach walking.
Where you can explore the white sandy beaches and crystal clear waters.
Unfortunately I heard that this resort has closed and I am unsure if and when it will reopen.

See reviews on Trip Advisor from other visitors who have stayed at the Tenta Nakara Resort & Restaurant.
While the seclusion of the island allows guests complete privacy and a retreat away from city life.
The Naka Islands are still within minutes of Phuket's essential services and tourist attractions.

Naka Noi
Naka Noi is the smaller of the two islands, and is located south of the larger island.
This Island is also known as "Pearl Island", as it is the site where rare South Sea pearls are cultivated.
The Pearl Farm offers perfect conditions for producing beautiful pearls, sheltered away from the monsoon winds.
A day trip or tour to the Naka Noi Pearl Farm includes a demonstration of how the pearls are farmed and extracted from the oyster.

The island also has a pearl shop where you can purchase pearls of all sizes.
How To Get To The Naka Islands
Long-tail boats can be hired for day trips at Ao Po Pier on the northeast coast of Phuket.
Or you can include these islands in a tour; tours can be booked at tour desks or travel agents in Phuket.
Location Map of the Naka Islands
Some links on this page are affiliate links, which means that if you purchase a product or service through them we may receive a very small commission at no extra cost to you.
Because our integrity and your satisfaction are very important to us, we only recommend products or services that we have purchased and or used ourselves, which we believe would benefit you. To learn more please see our affiliate disclosure.

---
---
If you enjoyed this article and found it helpful for your travels in Phuket, let us know by following us on Facebook. 
---