Flying Lanterns

By Paula Parker

Sky Lanterns | Paper Lanterns | Wish Lanterns 
Flying lanterns have a long history in Asia, dating back over 2000 years.
There origin is believed to have started from an early Chinese military strategy as a type of signalling balloon.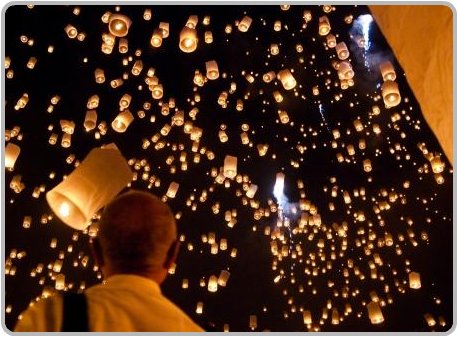 Flying lanterns are made out of rice paper with a bamboo frame, which contain a fuel cell or small candle.
When the fuel cell is lit the flame heats the air inside the lantern causing the lantern to rise.
Once airborne the sky lantern will rise until the fuel cell or candle stays alight, when the candle burns out the sky lantern floats back to ground.
In Thailand flying lanterns are used during the year and for festivals with the most popular being Loy Kratong Festival.
This festival is held on the night of the 12th full moon, usually in November, with Chang Mai believed to have the brightest and most spectacular celebrations.
All of Phuket's major west coast beaches take part in Loy Kratong festivities, with a mix of locals and tourists.
Patong beach and Nai Harn around the lake usually have the most activity with locals visiting beaches like Karon and Kata.
Sky lanterns or wish lanterns as they are also commonly known have become popular on the main tourist beaches of Phuket.
Wander down to the beach on most nights and you will find locals selling wish lanterns for a small cost.
Light your candle, make your wish, and once your wish lantern is floating skyward sit back and enjoy.
Making a wish on Phuket's Kata Beach


Purchase Flying Lanterns Online
Please note: Before purchasing Sky Lanterns, check with your local authorities if "Flying Paper Lanterns" are allowed in your area.
In Australia they have been banned since 20th August 2009.
If you enjoyed this article and found it helpful for your travels in Phuket, let us know by following us on Facebook. 
---

Save Time: Search Phuket Travel Secrets