Fish Foot Massage Bangla Road Phuket
Fish Foot Massage Bangla Road Phuket
by Jeff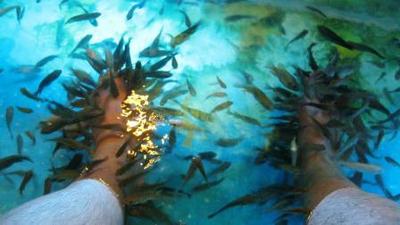 Fish Foot Massage
You just have to give this a go..

Its not everyday you can sit back and have a beer and get someone else to clean your feet for you and have them feeling absolutely awesome afterwards.

During the day this bar on Bangla Road across from Ocean Plaza shopping center offers something different to get your business.

For 200 Baht and an extra 60 odd for a Singha it was a great way to sit back for half an hour and soothe our aching feet after walking around the streets and markets in Patong.

If you have ticklish feet you may struggle with the little fish biting and nibbling between your toes and the odd bigger fish latching on with a solid bite just to make sure your not too relaxed.

If you want to experience a fish foot massage you will also find several stalls set up downstairs at JungCeylon shopping center along with massage and facial stalls at reasonable prices.

I would put this on your list of things to do when you have a holiday in Phuket.


If you enjoyed this article and found it helpful for your travels in Phuket, let us know by following us on Facebook. 
---

Save Time: Search Phuket Travel Secrets