Male and Female Polished
Brass Kneeling Teppanom Angels

Pair of Brass Kneeling Teppanom Angels
You may of seen brass kneeling Teppanom Angels at the entrance to Buddhist temples or in restaurants as a welcoming symbol to all guests.
The Teppanom is a mythological angel and part of the Buddhist tradition in Thailand.

Kneeling Teppanom Angels are part of Thai mythology and can also be found in Royal Palaces in Thailands.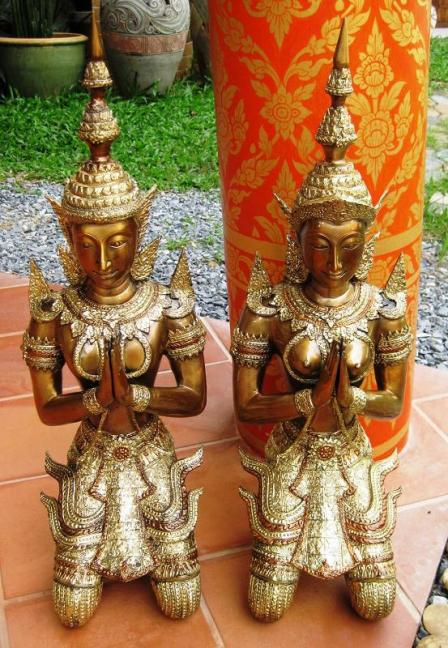 Polished Brass Male & Female
Kneeling Teppanom Mythology Angels
The kneeling Teppanom Angels are sold as a pair, one male and one female. They are:

Intricately hand carved from wax
Hand sculpted and finished in Thailand
Large: Measures 12" wide, 30" high and 11" deep each statue
Medium: Measures 8" wide, 24" high and 7" deep each statue
Small: Measures 5" wide, 13" high and 4" deep each statue
 X-Small Measures 3" wide, 9" high and 3" deep each statue
Weighs approximately 35, 25, 10, 2 lbs each statue respectively

The Kneeling Teppanom Angels can also be custom ordered in larger sizes of your choice.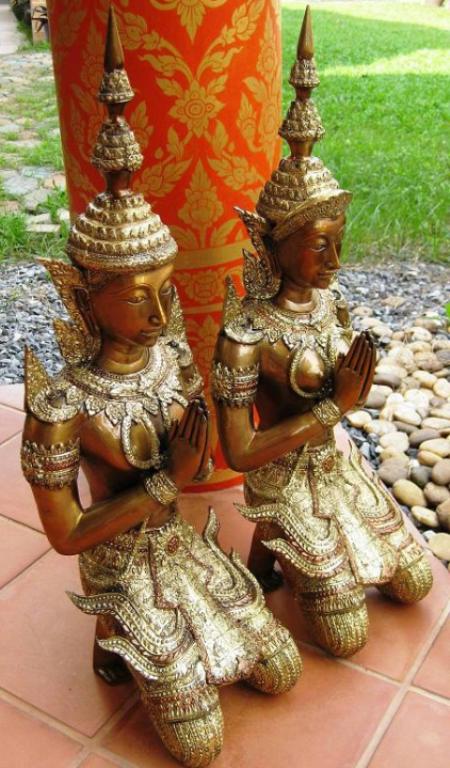 For further information about the brass Teppanom Angels, please complete the following contact form
By completing this contact form your details and any questions you may have will be sent onto our friend Dolly who has showrooms in Phuket, Chiang Mai, Bangkok and the USA.
---
---