Boots & Saddle Bar, Cheap Rooms by Nang, Nang Massage
by Michael Rodriguez
(Phuket, Thailand)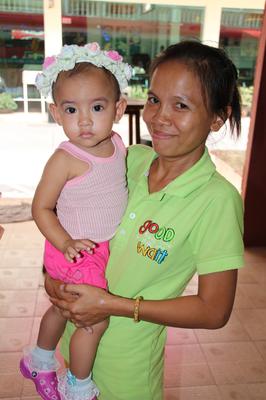 Nang & Mary Rose
I met Nang three years ago, when she was working in Kata as a cashier, bartender, clean up women, and closer for the bar.

I first noticed her when I sat down, ordered a drink and sat furthest from the bar girls.

The bar girls sat next to me in rotation which I had no interest.

And here was this 5 ft 90 kilo lady running around cleaning, picking up trash, bringing in the chairs when it began to rain.

Meanwhile, the 8+ bar girls were looking at here like they were watching a tennis match, their heads going left to right with no one getting off their seats to help her out.

By the looks of Nang's determination, her expression was such that she knew no one would help out.

A year later she met this American who eventually married her.

Now Nang has had nothing but bad luck, she has 3 sons with no father, a mother in the late 70s and a house in Issan that has the well and the toilet 1 meter from each other.

Her house is nailed together by used sheet metal in every direction possible.

But here was Nang; head up, nose to the grind stone and a personality that is absolutely wonderful.

Her faith, her outlook, her belief and upbringing. Whatever it is that makes her the kindest sweetheart I've ever met, I don't know.

What I do know is that I love her.

She was given a rotten deck and she came out smelling like a rose.

Now with her daughter Mary Rose, she is trying to make it on her own. Meaning, working for herself rather than someone else.

Good luck Nang with Nang Bar aka Boots & Saddle Bar Patong, Nang Massage and Cheap Rooms by Nang Patong Phuket.

Boots & Saddle Bar is located at 153/2 Rat-U-Thit 200 Pee Road in Patong.