Best Beach Massage in Phuket at Tri Trang Beach
Best Beach Massage in Phuket at Tri Trang Beach
by Jeff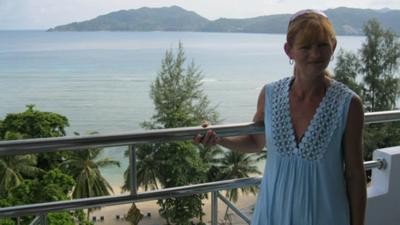 The view from our room at Tri Trang Beach Resort
There is nothing better than having a massage listening to the soothing sound of waves rolling up onto the shore.

The massage hut on Tri Trang beach in Phuket is hard to beat, it's location right on the beach in front of the Tri Trang beach resort. One of the few beaches were you won't be approached by vendors to buy their wares is magic.

There is no comparison to the packed in massage beds and the seedy environment of the massage parlors in Patong. No happy endings here, just one of the best massages we have ever experienced in Phuket. To be followed by a relaxing, hassle free sunbake and swim just 5 minutes from Patong.

Our visit to Tri Trang beach was in August, the middle of the monsoon season. The beach was so quiet, there would have been less then 10 people on the beach. We liked it so much that we booked into the Tri Trang Beach Resort for 3 nights and just about had the whole resort to ourselves and at a bargain price of 600Baht a night including breakfast.

We even scored an upgrade to a sea view room looking out over Patong Bay. It was definitely one of the highlights of our trip and we will be back.


Join in and write your own page! It's easy to do. How? Simply click here to return to Your Phuket Travel Stories.
If you enjoyed this article and found it helpful for your travels in Phuket, let us know by following us on Facebook. 

Save Time: Search Phuket Travel Secrets