Andasi Phuket
by Andasi Phuket
(Phuket)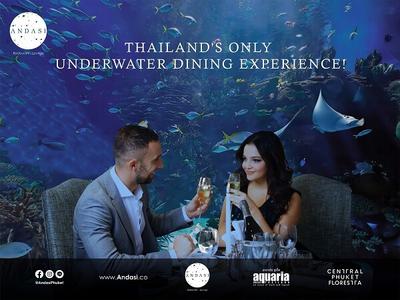 Andasi Phuket - Thailand's Only Underwater Dining & Lounge Experience
Andasi Phuket is located inside Central Phuket Floresta's state of the art aquarium "Aquaria".

Andasi provides diners with an absolute world class underwater dining experience in their 148-seat marine spectacular restaurant.

No matter where you are seated, you can marvel from all angles at our main viewing tank holding over 500 different species of over 100,000 fish.

Andasi opened in August 2019.
Subscribe to our Newsletter for Andasi's restaurant updates and opening details!

The Experience
Sip on champagne and enjoy a full dining experience in the award winning Andasi restaurant.

Enjoy a drink from our extensive range of cocktails, wines and champagnes whilst taking in the breath-taking aquatic view from our 12-seater bar.

Get even more up close and personal with their fishy friends at our overhead "Marine Masion" by enjoying an evening of drinks and h'or deurves at one of our beautifully placed cocktail tables. Check out our menus.

For those wishing a more private experience, our 16 seat VIP Room is perfect for that additional privacy or talk to our team about putting on the perfect event.

Opening hours:
Aquaria – 10.00am to 6.30pm (Mon-Sun)
Restaurant – 7.30pm to 10.30pm (Mon-Sun)
Lounge – 10.30pm to 2.00am (Mon-Sun)

Restaurant address:
Andasi Restaurant – Aquaria Phuket 199, B01, B Floor, Central Phuket Floresta, M.4, Wichit Sub Rd, Muang Phuket Phuket 83000

You can find Andasi Phuket Restaurant & Lounge underneath Central Phuket Floresta Shopping Mall.


Reservations
Offering the number one dining spot in Asia means our limited seating will fill up quickly with people booking prior to their arrival in Phuket.
Book the table of your choice or a seat at the bar before your trip to avoid disappointment.

For bookings call +66 76 600 859 or visit our our website.



If you enjoyed this article and found it helpful for your travels in Phuket, let us know by following us on Facebook. 

Save Time: Search Phuket Travel Secrets