Phuket Airport Transfers

Transport From Phuket International Airport
Phuket airport transfers gives you many options to get from Phuket International Airport to your resort or hotel ranging from the airport bus service, limousine taxi, mini bus, metered taxis, hotel transfers and car hire from the airport.
There's no shortage of transport in Phuket, your first glance of this is when you walk outside the airport terminal, where there are taxis and mini vans everywhere.
Phuket Airport Transfers

Airport Bus Service
The airport bus service is a great alternative for budget travellers.
The airconditioned buses depart from just outside the arrivals hall on the first floor.
The bus runs hourly from 6.30 am to 8.45pm daily to Phuket Town and costs around 85 baht.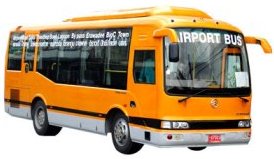 The trip from the airport to Phuket Town will take about an hour and there are drop off points along the way at Nai Yang, Heroines Monument, Tesco Lotus and the Big C Shopping Centre.
This is the cheapest Phuket airport transfers available on the Island.
Return airport bus runs from 5.30 am to 6.30 pm departing from Phuket Town.
---

Limousine Taxi

You will find the counters to buy tickets for the limousine taxi's in the arrivals hall of the airport, and you certainly won't miss them when you walk out of the terminal, silver taxi's everywhere.
This is a more expensive option and one that we prefer not to use, as they are over priced and they drive extremely fast, probably so they can get back to get the next fare.
---

Mini Bus

A mini bus is a cheaper option, however the problem with this is you have to wait until the bus is full and then it stops at all resorts and hotels along the way to drop off other passengers.
The tickets for the Mini Bus can be purchased at counters in the arrivals hall.
Prices depend on where you are going; Phuket Town is around 100 baht, Patong 150 baht and Kata and Karon around 180 baht.
Limousine taxi's and Mini Bus operators are renowned for taking tourists to local tour companies to book accommodation and tours even if they have accommodation already booked.
They often claim that your hotel is closed, they do this because they get paid a high commission if you take them up on booking through the tour group.
If you do experience this, you should contact the tourist police.
Tip
If you are going to use the limousine taxi's and mini bus services, always tell the driver that you have accommodation booked and paid for whether you do or not.
---

Metered Taxis

Metered Taxi's are located outside the airport terminal, follow the footpath to the right and at the end of the path you will see a well signed taxi stand.
You can't miss these taxis they are bright red and yellow.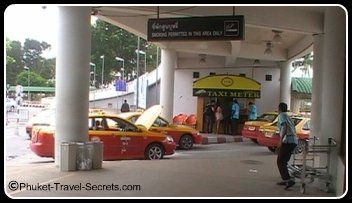 We often use metered taxis when we arrive in Phuket, the drivers are polite and they take you to where you want to go.
They are reasonably priced and generally hassle free.

You generally won't see metered taxi's driving around the Island, the only place we have come across them is at the airport or in Phuket Town.
There is a 100 baht surcharge from the airport, if you are only going a short distance make sure that the driver turns the meter on.
For long distances such as Patong, Karon or Kata beach areas the metered taxi's normally have a fixed price.
---

Limo Hire

You can also travel in style from Phuket airport to your resort in a Stretch limousine, a fantastic alternative if you are traveling with a group. The limo seats up to 9 passengers comfortably and safely. Read More
---

Hotel Transfer

If you don't feel comfortable getting a metered taxi, it may be advisable to pre arrange your Phuket airport transfers prior to your arrival.
For further information about airport transfers to your hotel in Phuket click on the link below to contact our friends at Easy Day Thailand. 

Offers personalised transfers direct from Phuket International Airport to your Hotel or Resort anywhere in Phuket.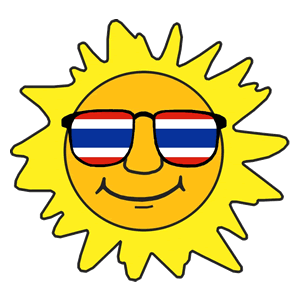 ---

Rental Cars From Phuket Airport

There are couple of car rental counters in the airport where you can rent cars or there are more companies located just outside the airport grounds that will pick you up on arrival and take you to their office.

You can read more information and tips about hiring a car in Phuket here.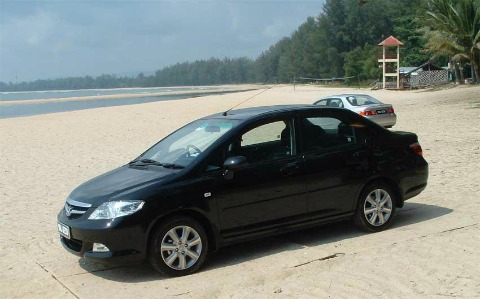 As you can see there are many options for your Phuket airport transfers, however we have never had an problems using the metered taxis from the airport.
Please Note: Some links on this page are affiliate links, which means that if you purchase a product or service through them we receive a very small commission. There is no extra cost to you. This helps us keep the information on our website for all to enjoy. Because our integrity and your satisfaction are very important to us, we only recommend products or services that we have purchased or would purchase ourselves and which we believe would benefit you. To learn more please see our affiliate disclosure.
---
---