Getting to Phi Phi Island

Ferries to Ko Phi Phi
Getting to Phi Phi Island from Phuket is easy !!!

Ferries From Phuket
A ferry is by far the cheapest and easiest way to get to Ko Phi Phi from either Phuket or Krabi.
From Phuket the boat trip takes around 90 minutes, depending on conditions it can take longer.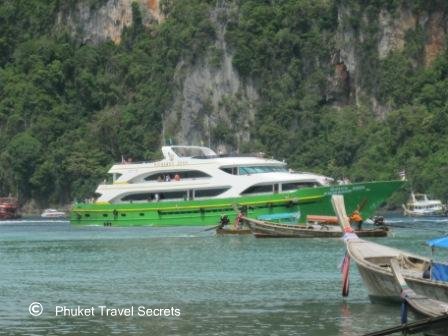 There are a few ferry companies that operate the ferry route from Phuket to the Islands.
Some of these ferries have package tours which include sightseeing, snorkeling and lunch all in the one price.
Ferry Tickets
You can purchase your tickets for the ferry from travel agents and tour agencies in Phuket or you can contact Easy Day Thailand to assist you with booking your tickets.
The price of the ferry tickets vary, starting from around 650 baht one way or 1000 baht for a return trip, this price should include land transfers from your hotel to the pier and return.
Land transfers are usually included in the cost if you are staying at one of the more central areas of Phuket; such as Patong, Kata or Karon.
The return fare does not have to be used on the same day.
During our last trip to Pee Pee we caught a ferry called Pichamon, which is run by the Chao Koh Group.
This ferry is great for sun lovers like us, with a large sundeck, where you can enjoy some amazing views.
The lower decks are air conditioned with comfortable seating for passengers and there is free tea, coffee and yummy muffins available throughout the trip..
Our transfer picked us up on time from the hotel at 7.15am and made it's way through lots of morning traffic to get us to the extremely busy pier for the 8.30am ferry.

 Video Clips of Phi Phi Ferry
Have a look at some of the video clips below.

The first video is taken at Rassada Pier and on route to the Island.
There was ample room on board this large ferry, however this was during the low season!
During the high season getting to the Islands with hoards of other tourists on board can get a bit crowded.
This next video is taken when the ferry was entering Tonsai Bay.
Getting to Phi Phi Island by ferry is ideal for people that are staying overnight.
For those who just want to go on a day trip to the islands, it is best to either charter a private speed boat or book a speedboat transfer.
The final video is taken arriving at Ton Sai Pier and transfer to Hotel.


Phuket to Ko Phi Phi Ferry Timetable


Ferries depart from the Rassada Pier in Phuket at 8.30am and 2.30pm daily
During the high season there is another ferry that departs at 11.00am
Return ferries depart from Tonsai Peir at 9.00am and 2.30pm daily
During the high season there is another ferry that departs at 1.30 pm


Travel Tips For Getting to Phi Phi Island

Return Tickets do not have to be used on the same day.

All ferries to and from the islands seem to depart and arrive back at Rassada Pier in Phuket at the same time.
Even in low season there are crowds of people and getting anywhere fast, just isn't going to happen.
It is advisable that you have a transfer or taxi waiting for you at the ferry terminal in Phuket, especially if you are going directly to the airport.
Phuket Airport is about an hours drive from the Pier, depending on traffic conditions.
To optimise your time on the islands catch the early ferry from Phuket and try to stay for at least 2 or 3 nights and then on the return journey catch the late ferry back to Phuket.



Ferries From Krabi
Getting to Phi Phi Islands from Krabi is just as easy.

There is a regular ferry service from Krabi to the Islands.
Ferry tickets can be purchased from travel agents and tour booking offices throughout Krabi, or you can purchase your tickets online from our trusted friends at Easy Day Thailand.
Please Note: Some links on this page are affiliate links, which means that if you purchase a product or service through them we receive a very small commission. There is no extra cost to you. This helps us keep the information on our website for all to enjoy. Because our integrity and your satisfaction are very important to us, we only recommend products or services that we have purchased or would purchase ourselves and which we believe would benefit you. To learn more please see our affiliate disclosure.
---
---