Phuket Blog
The Phuket Blog is our mini-journal about Phuket. It...
Lets you know whenever any new web pages appear on Phuket Travel Secrets, informing you about a new find or adventure
Keeps you up-to-date with other postings or news about Phuket (like the latest shopping hotspots and travel tips)
Points out some of our super-special past adventures that you might otherwise miss
Lets you know when I send out the Phuket Travel Secrets e-zine (in case you don't like to give your e-mail address, or if your ISP tends to over-filter causing you to miss an issue)
To subscribe to our Phuket Blog (no e-mail necessary), right-click on the orange RSS button (see bottom buttons to the left, below the nav bar) and then paste the URL into your RSS reader.
Or click on the Google, My Yahoo! button My MSN button, newsgator, or Bloglnes button if you keep a personalized home page there.
Once you start using RSS Blog feed you will be amazed how easy it is.
So don't be afraid to subscribe it's a great way to stay in touch with all our Phuket travel secrets and tips.
Enjoy... this is fun!
Krabi Beaches and Islands | Krabi Day Trips & Offshore Island Tours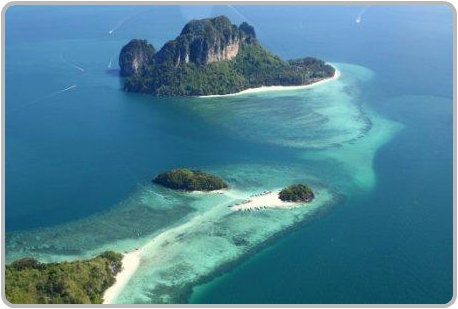 Krabi Beaches and offshore Islands provide the perfect backdrop for a relaxing holiday vacation in Southern Thailand. Our mini travel guide can help you plan your day trips and tours to stunning beaches and islands around Krabi.
Continue reading "Krabi Beaches and Islands | Krabi Day Trips & Offshore Island Tours "